Byond key: KiraYamato622
Character name: Rosalina Bellini
Age: 13-16
Parent: Hades
Weapon's Name: Obsidian Blade
Weapon description: A weapon forged from bone and stygian iron that is known as a Kusarigama.  The bone was crushed into powder and forged with blood of monsters and stygian iron to create a somewhat red grip that has black mix in it.  The chain is attached to the bottom of the handle and extends for quite a ways to a chakram like weapon instead of a weight.  The disk is made in a similar fashion to the grip of the kusarigama while the blades on it and the blade on the main part of the weapon are purely of stygian iron giving it a blade blade with a purple glow.
Weapon's Image:
Weapon Damage:
Sickle: 8 Damage
Chakram: 4 Damage
Weapon Weight:Light
Weapon Range:
Sickle: 1 Tile
Chakram: 3 to 5 Tiles
Weapon abilities: Note:  Scythe hits twice per turn and Chakram returns at the end of the turn regardless if it hits or misses.
Life Drain: Having been made out of Stygian iron the kusarigama and the chakram like weapon when they hit an enemy give a temporary life drain as they absorb the life of the target.  This drains the hit points or health of one hit by a certain amount each turn but wears off unless one of the blades of the weapon stay in the victim for an extended period of time.  The weapon is self absorbs the life energy making the energy of no use to the wielder.  This causes monster in particular more trouble as it makes them take longer to reform and leave the underworld.  
Note 1:  It can harm incorporeal targets on contact such as spirits, shades and wraiths.
Note 2: It doesn't Drain Life so much as Sapping.  Used the word drain because that is what it says in the mythos. So decreases X HP or X Stamina.
Fear Inducement:  This weapon being made from bone and stygian iron induces fear in those who see it making them make mistakes in battle as it is forged out of the metal of the underworld.
Note 1: Debuffs Speed of the Target.  Running towards the user decreases tile speed by -2.  And Running away is increased by +1.  Does not work on demigods or gods or creatures that are immune to fear.
Note 2: Running away bonus doesn't work if its a faint.
Hidden in Shadows:  Being made out of the underworld's Stygian Iron this weapon absorbs the light around it which in effect creates the purple glow around it.  This has the effect of making the weapon seem as if it is drawing shadows around it and when its dark or at night or even used among shadows this ability makes the weapon harder to see.
Note 1: Makes it harder to see the weapon in the dark, night or around shadows.
Note 2: Not completely hidden just harder to see.
Weapon material: Stygian Iron.
Why does this weapon match you:  It is made to match Rosalina as she like being more steathy so the Stygian steel drawing in light and making the weapon harder to seen when its dark, night or in shadows helps out.  The weapon inducing fear will make people want to fight against her less since she prefers to not fight and when she does she doesn't like using brute force which the life drain of the metal helps with quite a bit.  And with her wanting to specialize in necromancy and shadow or darkness manipulation it gives a bit of poeticness to it.
Item's Name: Ring of Minor Darkness
Item's Image: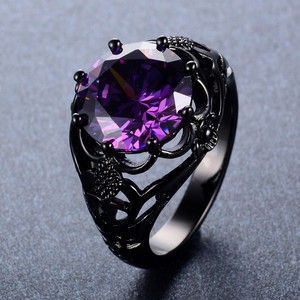 Item's Backstory: This ring has a short history as it was forged and enchanted especially for Rosalina by her father Hades.  Though whether or not her father did the work himself or had one of the other underworld gods do it for him she doesn't know.  But she was told how it was made.  When her mother found out she was pregnant and Hades found out he took some of his purple gemstones and began soaking them in the River Styx intent on making a magical item to keep her safe.
And upon her arrival at Camp her father decided it was time to began on her item and weapon and thus had them worked on.  The ring started out with being made out of Stygian Iron so that it would be able to handle the gem stone.  The iron was tempered for days before being intricately crafted into a ring shape before one of the many gemstones soaking in the River Styx was recovered.  Then inviting a few magic specialists or enchanters over Hades would personally over see the ring being joined with the gemstone.
This process was the most complex part of the creation of the ring as the ring and gemstone were being enchanted separately and together as the iron was slightly melted and the gem placed into the ring.  The enchantments on the ring and the material it was made out of and the gem being soaked in the River Styx was all done for very particular reasons.  It would grant the ring, when twisted around the wearer's finger, to allow the wearer to turn invisible or meld with the shadows around her.  IT would only slightly muffle her footsteps and breathing but that was it.  It was nowhere near the power of the Helm of Darkness that Hades had but it was based off of it. The Stygian Iron was used so that it would draw in shadows to help the wearer hide and the gemstone was enchanted and soaked in the River Styx to amplify this and made it only activate with a certain action.
Note 1: Doesn't turn fully invisible.  Mainly becomes shadowy or able to blind in with Shadows.  More like Camouflage instead of Invisibility.
Note 2: Three turn limit on hiding in darkness and shadows before having a two turn cool down.  Nearly impossible to be seen or noticed when in use unless the opponent or people searching has high enough sight, smell, hearing or sensing perks!
Last edited by KiraYamato on Tue Sep 05, 2017 10:21 pm; edited 6 times in total
Yeah I know probably horrible app. Was half asleep and 4 am, or close to 4 am, when I finished it. And I HOPE I didn't get it made too OP. Trying to keep it to where it fits my character who I plan to have moving through shadows and hiding. Supposed to be based on a darkness/shadow Hades daughter that is good at Necromancy/summoning and fights with Assassin like tactics or skills.
Too many abillities for the damage, especially considering it is a light weapon, but since its ranged, it gets some leeway
You realize that a range between 3-5 means you can only hit people that are either 3,4 or 5 tiles away from you, any closer and you can't swing, and any farther and your weapon won't reach.

All stygian weapons hurt spirits.

Fear does not nerf agility, either speed or strength.

The abillity to be hidden in the darkness is an op abillity, considering it lowers the opponent's agility when dodging, keep that in mind.

Item has a 3 turn limit before it has a 2 turn cooldown. In the darkness, it is nearly impossible to see unless the opponent has some sort of hearing, smelling or sensory skill.
Admin




Posts

: 66


Join date

: 2017-09-01



Approved
Scythe hits twice per turn.
Chakram returns whether it misses or hits at the end of the turn.
Admin




Posts

: 66


Join date

: 2017-09-01



---
Permissions in this forum:
You
cannot
reply to topics in this forum