Byond key: Ziare1
Character name:  Abasi
Age: Seventeen | 17
Parent: Ares
Weapon's Name: Enyo (Discord)
Weapon description: Enyo is giant ornamental axe with a blade shaped like a crescent moon, similar to that of a Monk's spade. Its design specs and distribution of weight are (likely intentionally) off: most of the weight is concentrated in the head, leaving it off balance, and even more difficult to wield than its impressive weight would already make it. The Axe was named after a Consort of Ares who bowed to his every beck and call.
Weapon's Image: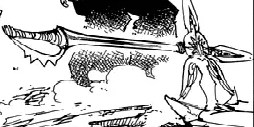 Weapon Damage: 45
Weapon Weight: 250lbs (Very Large)
Weapon Range: 1-2 tiles
Weapon abilities:
Beckon - Once the user beckons in the air the weapon will zoom off to the user's hand from it's previous location (if the user isn't already wielding it). The farther away the longer it takes for the weapon to make it's way to the user (Up to 3 full role play rounds). (Does not work inside strong buildings/caves/dungeons)
Call - Once the user calls the name of the weapon, it will release a high pitched screech causing the opposing warriors to lose focus of their target for a turn. (3 turn cool down)
Weapon material: Celestial Bronze
Why does this weapon match you: This weapon is strong just like me and powerful just like me. A few strikes from my  broad shoulders with my weapon should reduce puny enemies like you to dust and return you to the underworld with Hades where you belong.
Item's Name: Curse of Phobos (Dreadlock Ring)
Item's Image:
Item's Backstory: Crafted by Phobos, a brass ring was created by the god. Normally the ring serves no purpose until it is put on. The ring was later cursed as it was given to the enemy of Phobos to weaken him and force him to give up his influence. Once found out, the ring was ditched by Phobos's enemy and simply dropped in the mortal realm
The ring was later found by Abasi when he was fishing off the coast of his hometown in Tanzania. Figuring out what the ring did, he decided to keep it around.
Item's Ability: When the user wears the ring their stats are all halved and they radiate fear around them sending shivers down the spine of others.
When the ring is taken off their stats return to normal and receive a boost for 3 turns before dropping back to normal. The ring requires 1 week to recharge and must be worn to recharge.



Posts

: 3


Join date

: 2017-09-05



Different ability for the item.
Too many energy storing items already.
Weapon approved.
Admin




Posts

: 66


Join date

: 2017-09-01



Item Name: Curse of Phobos
Image:
Item's Ability: While wearing the glasses the user's physical appearance changes to that of a harmless person. Their stats are lower by 20% as well.
Once taken off the wearer will no longer be rooted when they attack for 3 turns and their stats will return to normal no longer being suppressed by the curse.
--
The Axe adds bleed if it causes damage.



Posts

: 3


Join date

: 2017-09-05



Admin




Posts

: 66


Join date

: 2017-09-01



---
Permissions in this forum:
You
cannot
reply to topics in this forum